CPSU joins the list of PH universities included in the 2023 Times Higher Education Impact Rankings
June 1, 2023 - Central Philippines State University (CPSU) joins the list of the Times Higher Education (THE) Impact Ranking fifth edition which is participated by 1,591 universities from 112 countries.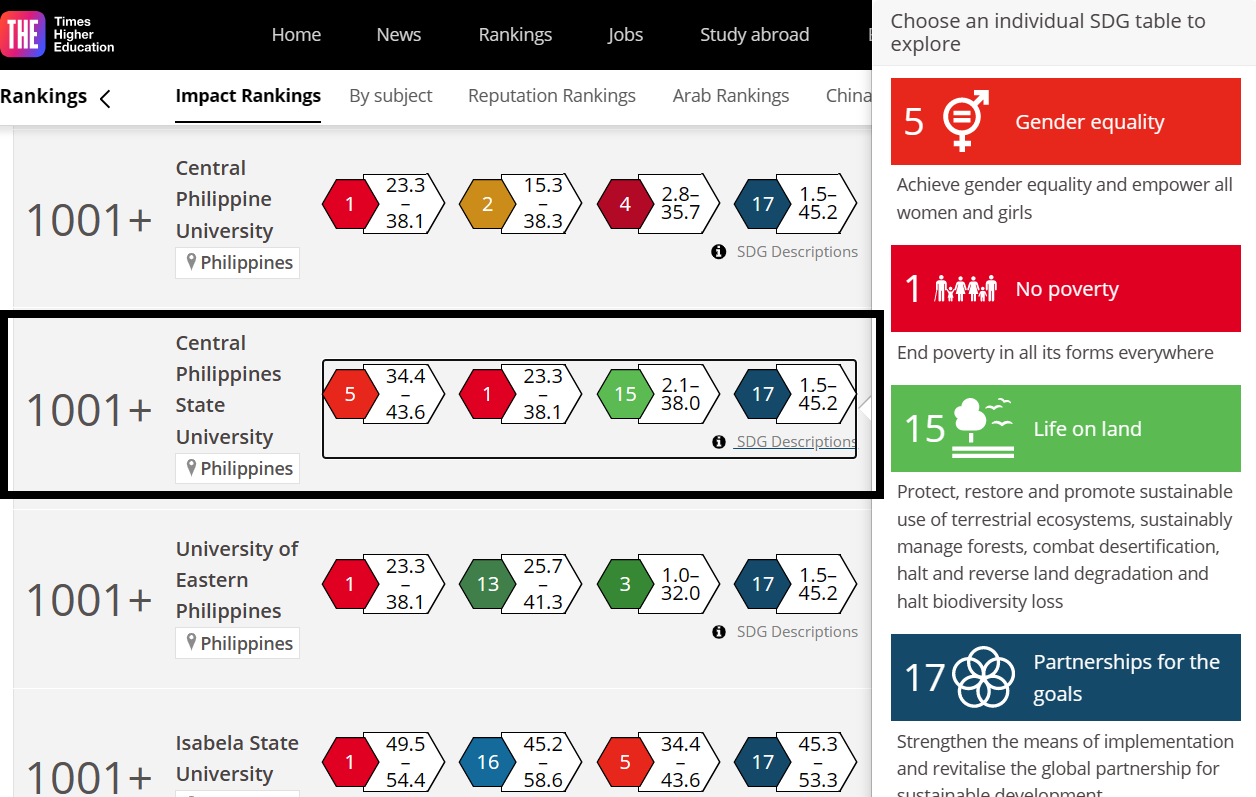 As a first-time participating university, CPSU submitted entries in SDGs 1 - No Poverty, 5 - Gender Equality, 15 - Life on Land, and the mandatory SDG 17 – Partnership for the Goals, which evaluates how the University initiated and strengthened collaboration in a global perspective to promote its best practices.
Specifically in the Philippines, CPSU takes pride in being among the 29 universities that underwent the scrutiny of the said competitive evaluation with Ateneo de Manila University topping the list.
The Times Higher Education (THE) Impact Ranking is the only global performance tables that assess universities against the United Nations' Sustainable Development Goals (SDGs) across four (4) broad areas in research, stewardship, outreach and teaching.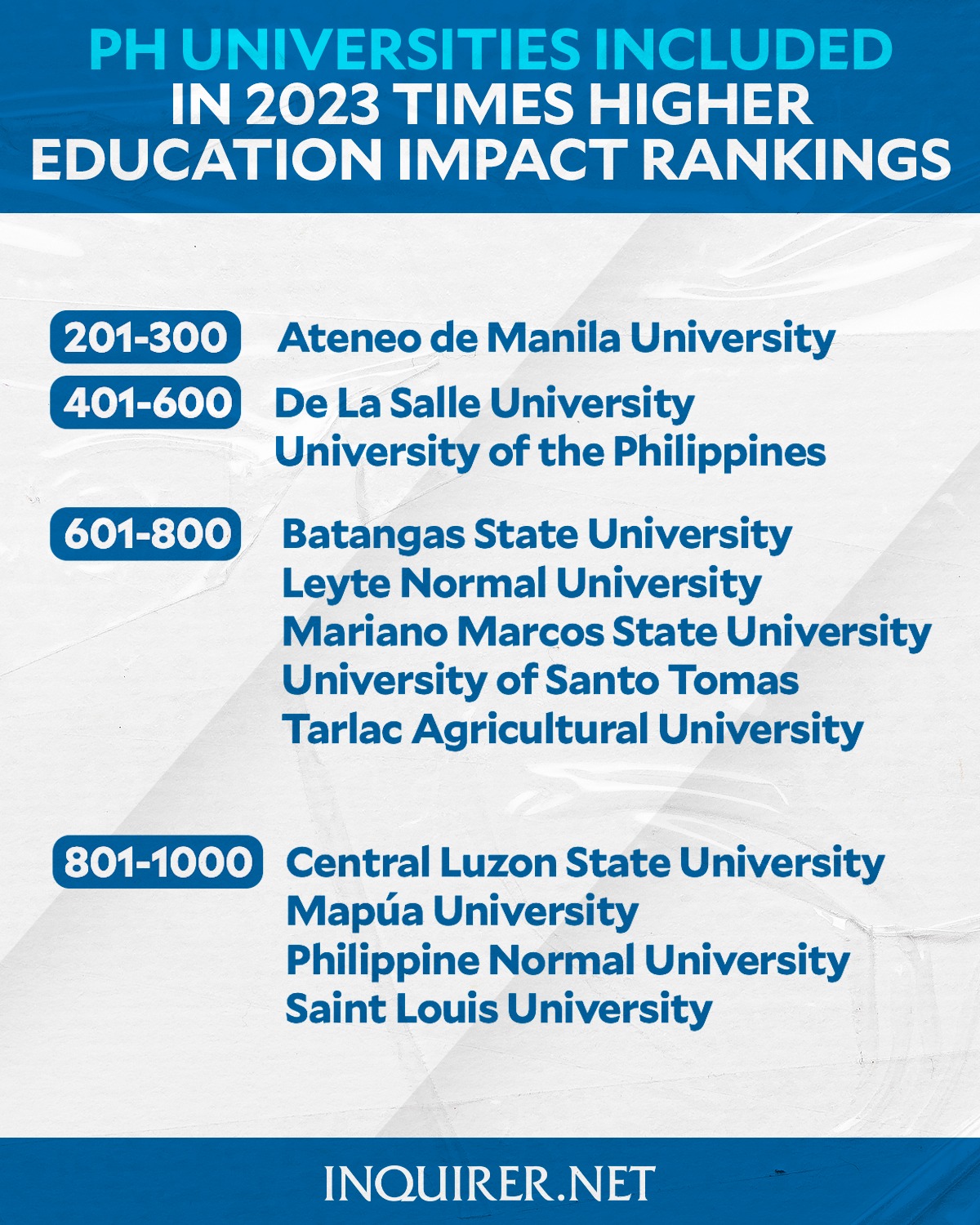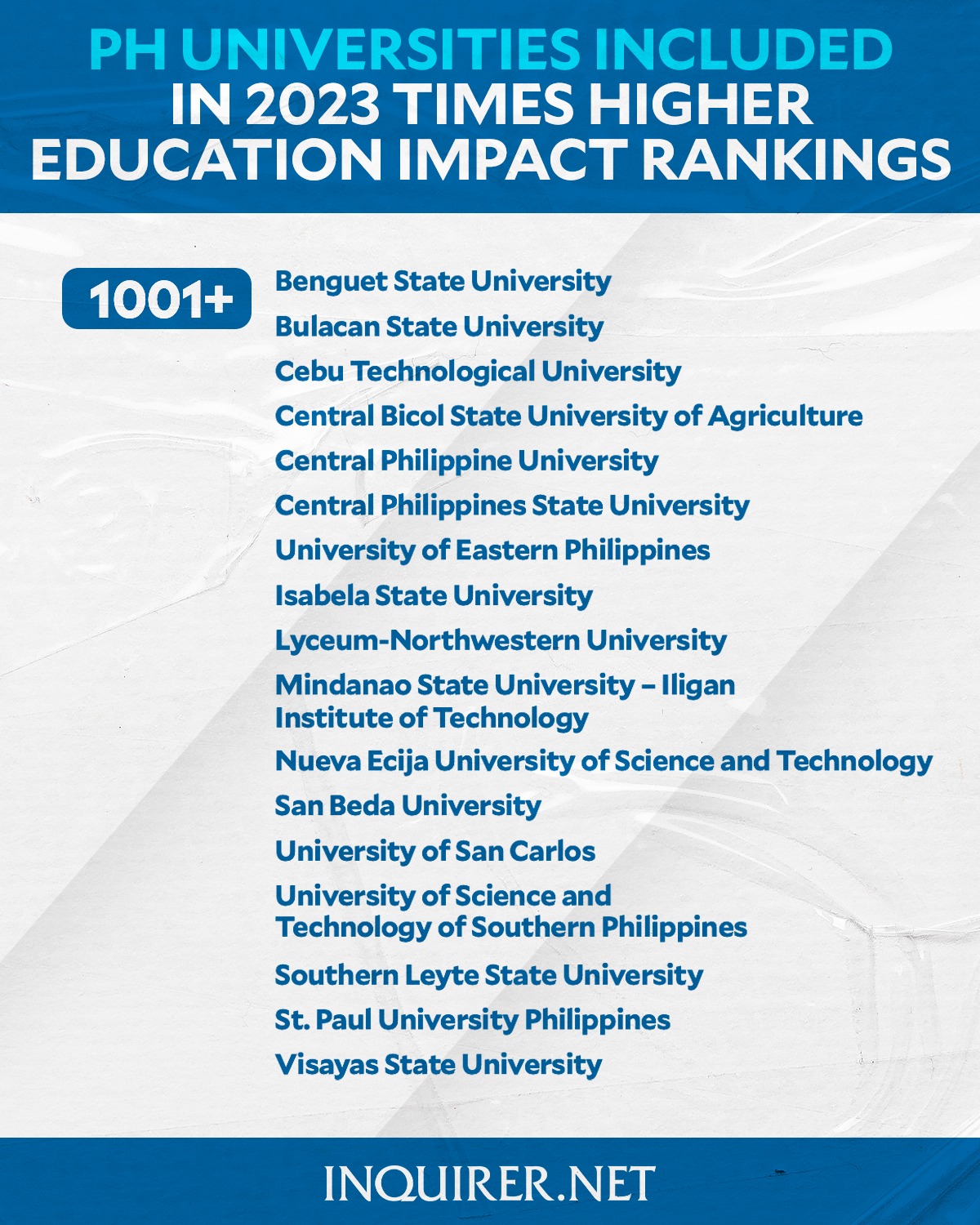 Dr. Aladino Moraca, CPSU president, stated how these results (including the WURI ranking) affirm the University's serious commitment to sustainability as it gains this international acclaim.
"These recognitions reflect our legacy and serious efforts to address both local and global challenges in terms of food security, environment protection, agri-innovation, and gender equality as evidenced by the impact that our programs create to the community," Dr. Moraca said.
This milestone is once again indebted to the CPSU Internationalization team headed by Dr. Aladino Moraca, CPSU president, together with the former director for International Affairs, Dr. Denis Bilocura, along with Dr. Josephine Asuncion Emoy, Dr. Aubrey Ginelle Rallos, Dr. Marjon Malacapay, and Dr. Rosemarie Gallardo as the Core team.
Also part of the team are Dr. Angelie Rose Lumba, Dr. Maryvic Pedrosa, Dr. Jimmy Degillo, Dr. Chim Misajon, Dr. Manilyn Mananap, Dr. Joean Mae Escober, Dr. Jenesa Dayono, Dr. Analou Paculanang, Mrs. Aileen Belleza, Ms. Michelle Sipat, Sir Reymark Agita and Ms. Joannie Magbanua.
CPSU also expresses its gratitude to Tarlac Agricultural University (TAU), partner SUC, for their assistance and insights shared during the team's benchmarking activity on their campus.
By J. Emoy / The Cenphilian Publication
Photos credits: Inquirer.net & THE