CHEDRO VI recognizes CPSU as Best Flexible Learning Implementer in the region
May 19, 2023 - Commission on Higher Education (CHED) -Region VI awards Central Philippines State University (CPSU) for being the BEST FLEXIBLE LEARNING IMPLEMENTER through its adherence to the requirements of CHED Memorandum Order No. 4, Series of 2020 or the "Guidelines on the Implementation of Flexible Learning" and CHED Memorandum No. 6, series of 2022 " Sustaining Flexible Learning in Higher Education: An Addendum to CHED Memorandum No. 4 series of 2020".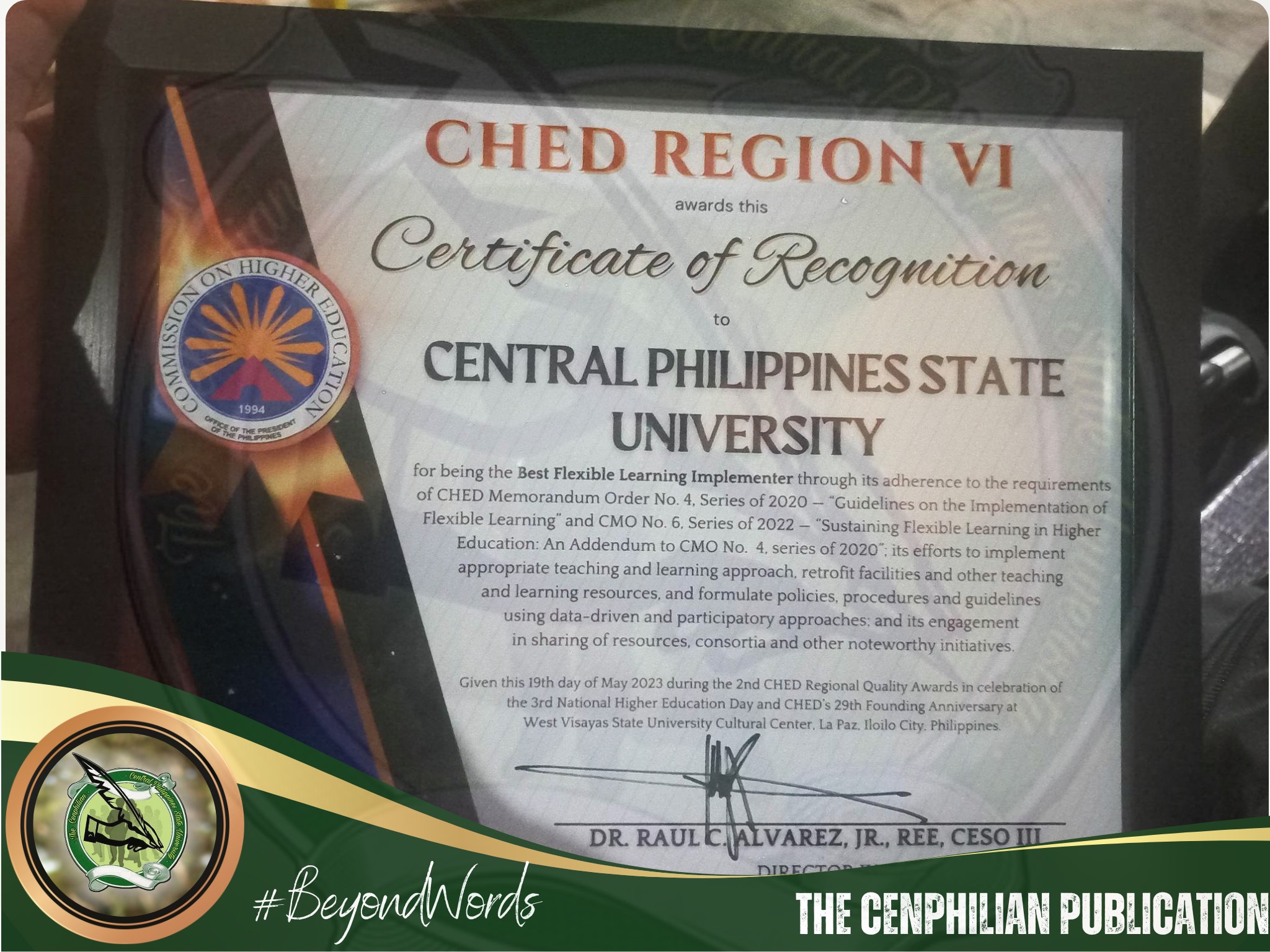 This recognition particularly highlights the efforts of CPSU to implement appropriate teaching and learning approaches, retrofit facilities and other teaching-learning resources, formulate policies, procedures and guidelines using data-driven and participatory approaches, and engagements in sharing resources, consortia and other noteworthy initiatives.
Given during the 2nd CHED Regional Quality Awards, this served as the Commission's way of acknowledging the efforts and initiatives of Higher Education institutions (HEIs) in the areas of instruction, research, and community extension among others pursuant to relative CMOs issued. This event is part of CHED's celebration of the 3rd National Higher Education Day and CHED's 29th Founding Anniversary held at West Visayas State University Cultural Center La Paz, Iloilo City Philippines.
This award once again proves the University's commitment of providing quality, relevant, responsive, and effective instruction and services to its clientele, especially during the COVID pandemic.
The said award was received by Dr. Riza Stephanie Alfaras, Dean of the University Graduate school, as CPSU representative.
By: J.A. Emoy & H. L. Flores / The Cenphilian Publication
Photos: R.S. Alfaras & OSSA