CPSU holds monthly convocation promoting Cenphilians' well-being
CPSU Main Campus - To amplify the importance of psychosocial health for every Cenphilian, the University conducted its May convocation with the theme, "Promoting Cenphilians' Well-Being: Updates on Anti-Hazing Act of 2018 (RA 11053) and Comprehensive Dangerous Drugs Act of 2002 (RA 9165)", held at Clemente Sports Complex last May 3, 2023.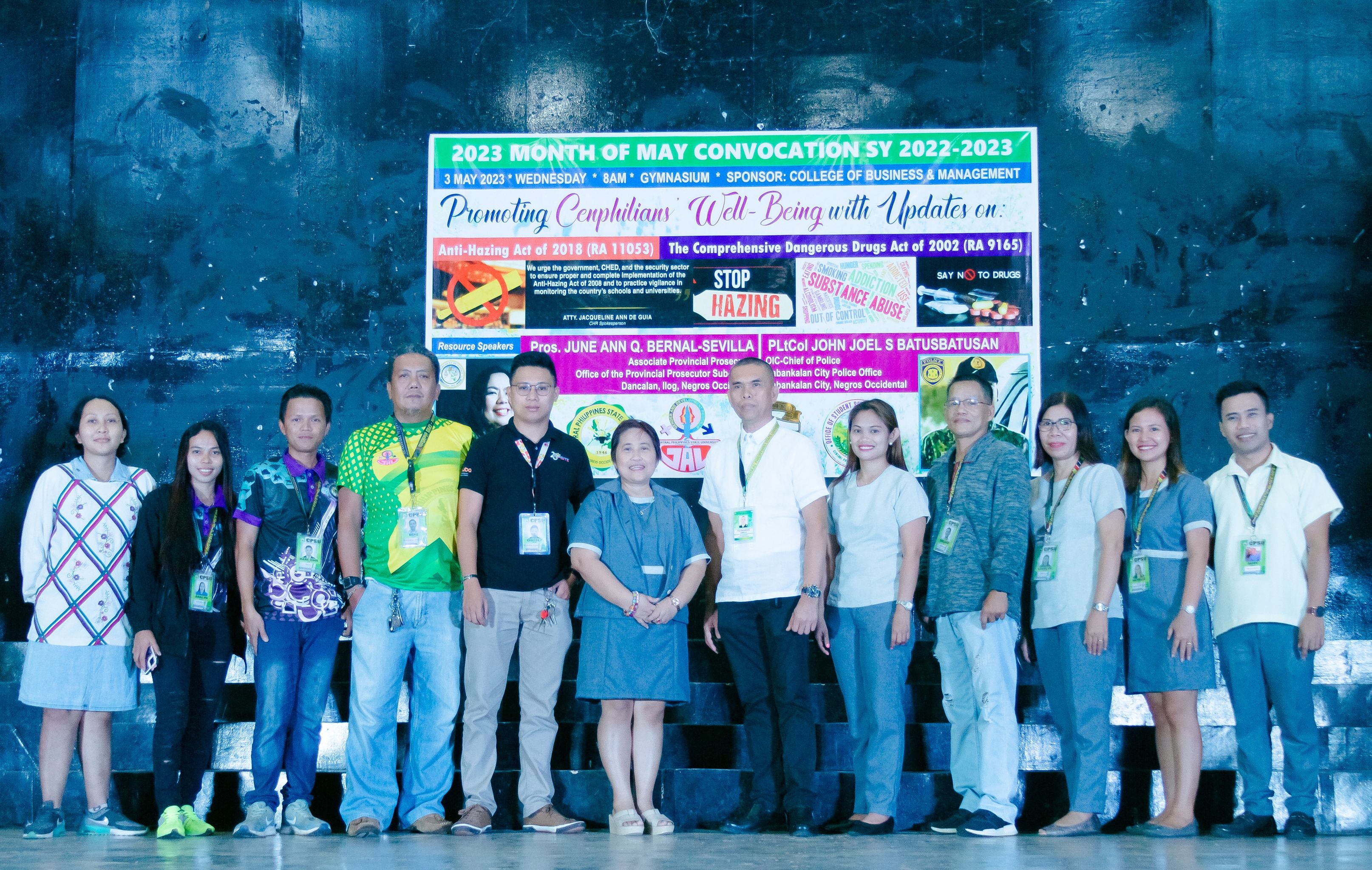 Dr. Fernando A. Abello, Vice President for Academic Affairs, welcomed the guests, students and personnel with enlightening remarks about how social and psychosocial well-being is vital for one's holistic development. He also echoed the pride of CPSU as it upholds its commitment to creating a safe space for its clientele.
"It cannot be denied that we have students joining fraternities in our community yet the record shows that there is no report for vandalism, rumble, and corporal punishments given to applicants or members. There are also no students convicted of illegal use of prohibited drugs from this institution," Dr. Abello stated.
Gracing the event as one of the guest speakers was Atty. June Ann Q. Bernal-Sevilla from the Office of the Provincial Prosecutor. She focused her talk on the existing laws of RA 11053 or also known as the Anti-Hazing Act of 2018, and shared the history of how fraternities emerged including fatalities due to hazing activities. A fruitful discussion continued as she shared insights on how the university could ensure that all rights are safeguarded and fraternities, as well as sororities, conduct their initiation rites under the umbrella of the institution and by following the mandated rules. She further talked on RA 9165, or the Comprehensive Dangerous Drugs Act of 2012. Her discussion entailed to inform everyone of the various degrees of offenses and their equivalent punishments as stated in the law.
"Stay away from drugs; let us live in a drug-free community. It will be a stepping stone to the achievement of our aspiration towards living in a safe and harmonious environment, a revitalizing community away from any self-destructing consequences," she added.
The second guest speaker was PSSG Joseph Ian E. Alcala, Assistant PCR PNCO of Kabankalan City PNP, who spoke in behalf of PLtCoL John Joel S. Batusbatusan, OIC-Chief of Police of Kabankalan City. He highlighted how the police force in the city seriously takes part in the effective implementation of the anti-hazing law and join force with the national government to put an end in the illegal use of dangerous drugs. An open forum followed as facilitated by Dr. Ma. Pilipinas D. Jareno, on PNP and the university's appropriate actions to once a student got caught with drug-related crimes under the institution's vicinity.
This event is proof of CPSU's firm efforts to ensure a safe and secure quality higher education community by primarily promoting the holistic wellness of its stakeholders. It is the manifestation of the institutions' goal to produce competent graduates who are responsible citizens of society.
The said event was sponsored by the College of Business and Management (CBM) headed by their Dean, Sheila A. Ignacio, and the CPSU Gender and Development (GAD) Unit headed by Dr. Noel S. Dayono, together with the Office of the Students Services and Affairs (OSSA) headed by Dr. Ma. Pilipinas D. Jareno.
-I. Coniendo, BSED-Science 1 - The Cenphilian
Photos: CPSU-OSSA