DOST, CPSU conduct turn-over rites on Starbooks, and forum on food safety, "Pinggang Pinoy" to Tagukon and Camingawan NHS stakeholders
March 30 & 31, 2023 - The turn-over and installation of Starbooks, and forum on food safety and the ideal and practical "Pinggang Pinoy" at Tagukon National High School, and Camingawan National High School, respectively were realized through the Department of Science and Technology (DOST) – Region VI in partnership with CPSU-Research and Development Center.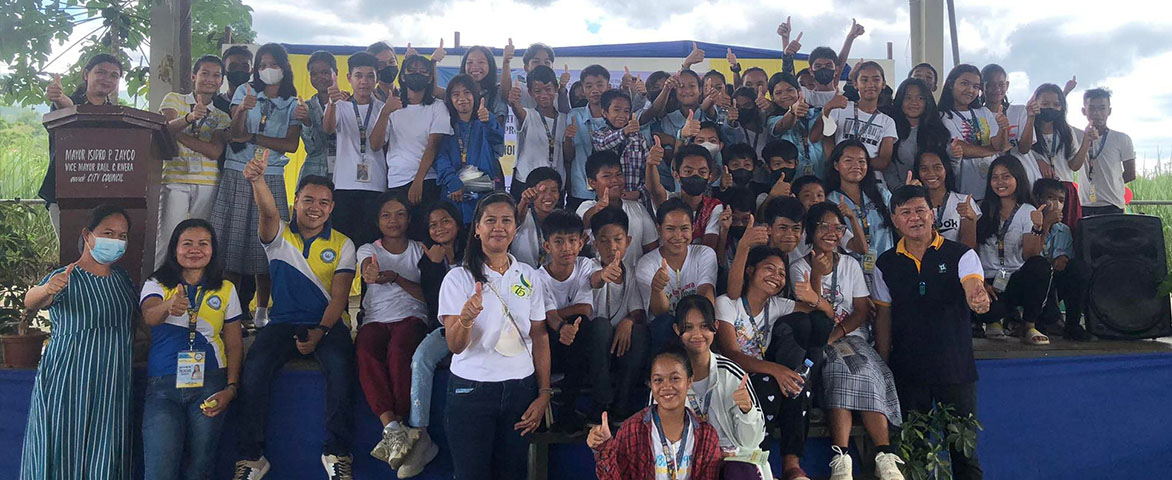 Starbook is a stand-alone information source designed to reach-out those with limited access to S&T information resources. The project with its benefits as discussed by the DOST coordinator, Sir Russel Renz Garcia, aims to provide Science, Technology, and Innovation-based content in various formats to students and other constituents in geographically-isolated and economically-challenged schools and communities throughout the country. Starbooks software contains hundreds of thousands of digitized science and technology resources in various formats (text and video/audio) placed in specially designed "pods" set in a user-friendly interface.
Meanwhile, the Food Safety and "Pinggang Pinoy" as discussed by DOST VI director, Engr. Allan Francis Dara-ug, aims to educate and urge every Filipino family to provide a balanced meal even with their usual food available at home. He particularly raised the awareness of participants on the proper handling of foods.
The Tagukon and Camingawan faculty, staff, students and parents expressed their gratefulness to the team for the opportunity to be chosen as recipients to receive the Starbooks. With it, students could now take advantage of the provided tools that are very beneficial to their education.
The Personnel who joined the Tagukon National Highschool turn- over were Mrs. Alona T. Meleloa, Teacher-in-Charge, Ma'am Neresa Tuazon the faculty Vice President, Rey Villaflores the PTA President, Mrs. Lowela T. Abella the SGC President and Trisha Kate M. Ladines the SSG President, among others.
The Camingawan NHS activity was also graced by Ma'am Brecy E. Sapanza the Teacher- In- Charge, Rolando Quimpo, the PTA President, Nole Cabardo, the SGC President and Leonila Candelario the SSG President, along with the rest of their school personnel.
Also giving their messages were the Chief, School Governance Operation Division, Dr. Cecilia G. Abello, the Public School District Supervisor V, Sir Faustino T. Padilla, Jr., Hon. Rico M. Regalia, Punong Barangay of Brgy. Camingawan, Hon. Celedino Tondo, Chair Committee in Education, and dr. Junry Esparar.
CPSU VP of Academic Affairs, Dr. Fernando Abello, and the Dean of College of Agriculture and Forestry, Dr. Hanzel Pedrosa, also gave their messages at the said events highlighting how the university values stakeholders, partnerships, and extension programs that provide sustainable impact to the total well-being of the rural communities.
Leading the ceremonial turn-over was Dr. Angelie Rose L. Lumba, the Director for Research and Development unit, along with the DOST, CPSU team, DEPED partners, guests, and stakeholders.
"We rise by lifting others." —These words by Robert Ingersoll is indeed the perfect epitome of this tripartite endeavor with DOST, CPSU and the recipient National High Schools.
By: M. Matunding and R. Normor – ABEL 4 OJT & J.Emoy – The Cenphilian Publication