Cenphilians' Pride! 14 Mechanical Engineering students pass the February 2023 Board for Mechanical Engineers!
The Central Philippines State University- College of Engineering (COE) once again fills its halls with loud echoes of pride and cheers for the fresh set of successful takers in the Mechanical Engineering Licensure Examination that was conducted last February 26-27, 2023 by the Professional Regulations Commission. The 14 new Mechanical Engineers are as follows:
Engr. Joery G. Alising

Engr. Reymond J. Alpis

Engr. Esther D. Buyco

Engr. JR M. Cuenca

Engr. Jay M. Cuizon

Engr. Alfred S. Elliot

Engr. Kenneth Bryan S. Gantalao

Engr. Khentpaul M. Infante

Engr. Riza L. Lumangyao

Engr. Mariel C. Mahinay

Engr. Jason Client A. Pagador

Engr. Jeruel L. Sabacan

Engr. Julius C. Sebugan

Engr. Desiree Mae K. Titong
With this, CPSU obtained a 66.67% overall passing rate, and a 62.17% national passing rate. Accordingly, there were 12 out of the 18 first-time takers, and 2 out of 3 retakers who passed the recently-concluded exam, giving it a total of 14 passers out of 21 test takers.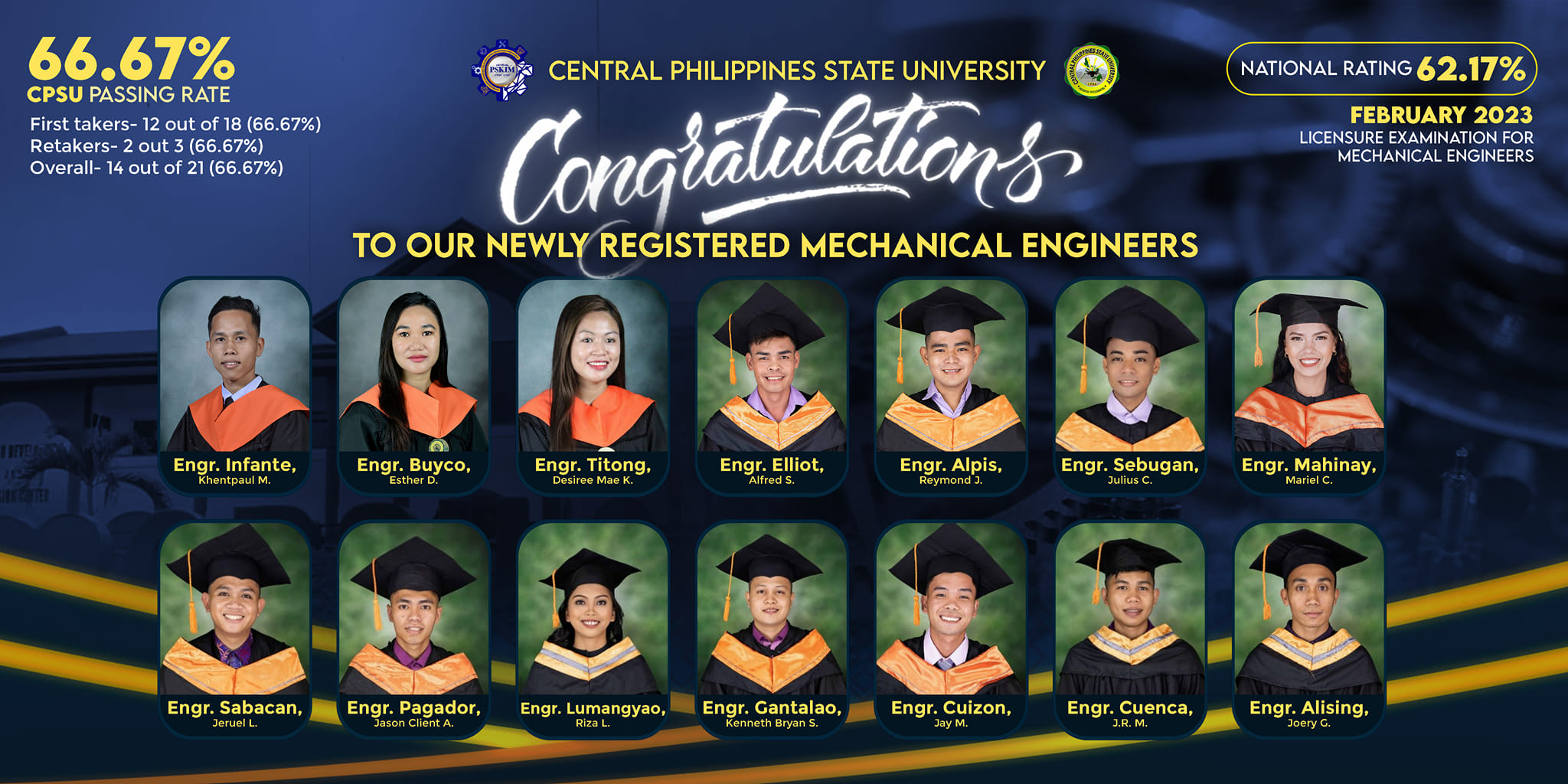 By: R. Normor & M. Matunding / ABEL 4 OJT & J.A. Emoy – The Cenphilian Publication
Photos: COE & M. Malacapay