CPSU 71st Commencement Exercises: A testimony of success and resiliency amid pandemic
Central Philippines State University held its University-Wide Graduation Ceremony for Batch 2021 with the theme: "Pursuing professional well-being with resilience and inner strength," last March 30, 2022 for the undergraduate class and March 31, 2022 for the Graduate School via virtual platform.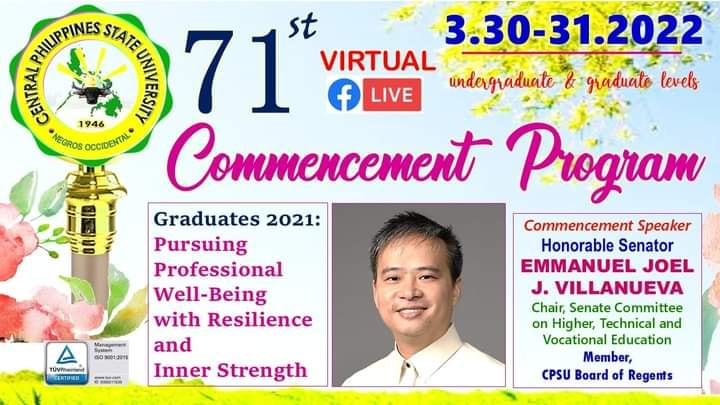 The Ceremony was graced by Senator Emmanuel Joel J. Villanueva as the Commencement Speaker.
Batch 2021 consisted of a total of 1,259 graduates, of which, 400 were from the College of Agriculture and Forestry, 19 graduates from the College of Arts and Sciences, 169 graduates from the College of Business Management, 17 graduates from the College of Engineering, 128 graduates from the College of Criminal Justice, 225 graduates from the College of Computer Studies and 301 graduates were from the College of Teacher Education.
Graduands per College were presented by their respective College Deans and confirmed by the University President, Dr. Aladino Moraca.
Among them, Mr. Jim John P. Tolentino, a graduate of the BS in Hotel and Restaurant Management from San Carlos Campus received the highest honors as Suma Cum Laude with a GWA of 1.21 . Being an NOSP and TES scholar during his college days, his is another story of victory from poverty. He is driven with his motto in life, "Rest when you are done, not when you get tired."
According to him, "Life is full of challenge but don't lose hope and never give up. Always believe in yourself, even when you fail you need to stand up and try again, giving up is not a choice. Believe in yourself that you can do it and you will reap what you sow."
Congratulations Graduates of Batch 2021!
By A. Abello, BSA 4