Cenphilians virtually celebrate the 15th FLP agri-work and local convention
Cenphilians across the ten (10) campuses of the University participated in the 15th FLP Agri-work and Local Convention with the theme, "FLP STRONGER @ 15: BREAKTHROUGH LEADERSHIP AND CREATIVITY STRIVING A GLOBALLY SUSTAINABLE AND HEALTHY MILLENIUM" held on March 23-25, 2022 via Zoom Teleconference. The said convention highlighted seventeen (17) contests which aimed to harness the skills and potentials of every Cenphilian in agriculture-related endeavors.
The events were: Identification of Plant Insect Pest and Diseases and Identification of Plant Weeds under the Crop Science Category, Wood Identification and Identification of Forest Insect Pest and Diseases under Forestry, Actual Landscaping Gardening under Crop Protection, Bangus Deboning and Fishpond Layout for Fisheries, Fruit Carving and Tour Guiding for HRM Related Category, Compounding Feed Ration and Determining Feed Conversion Ratio under Animal Science, as well as Poster and Slogan Making, Extemporaneous Speaking, Battle of the Brains, Vocal Solo, Vocal Duet, and Hiphop under the Cultural Category.
Listed below are the winners in various event categories:
IDENTIFICATION OF PLANT INSECT PEST AND DISESASES
1ST- MOISES PADILLA (GEFCA FLORES)
2ND- CAUAYAN (ANALIE CALO-OY)
3RD- ILOG (SHEENA MAE VALDESIMO)
WEED IDENTIFICATION
1ST- HINIGARAN (RINO TORQUATOR)
2ND- KABANKALAN CAMPUS (SIDNEY ERMEO)
3RD- HINOBAAN (MELROSE TABOTABO)
WOOD IDENTIFICATION
1ST- KABANKALAN (KAYE PEDRAJAS & MICHAEL ABABAO)
2ND- SIPALAY (MARISSA PLANAS & KHARLA TEJADA)
3RD- ILOG (MIRIAM PANTILANAN & RACHELLE JOY ESCALDERON)
IDENTIFICATION OF FOREST INSECT PEST AND DISESASES WINNERS
1ST- KABANKALAN (HONEYMAE PETIERO)
2ND- SIPALAY (JONALYN ANGRE)
3RD- CAUAYAN (ANALIE CALO-OY)
ACTUAL LANDSCAPING GARDENING
1ST- ILOG (RICHARD JOHN COPIAS)
2ND- CANDONI (DONNA LAS PINAS)
3RD- HINOBAAN (XYRA CAMELE JULAO)
BANGUS DEBONING
1ST- SIPALAY (DANIEL DAMANDAMAN)
2ND- VICTORIAS (ALYSA BELARMA)
3RD- ILOG (ALLIAH CORDOVA)
FISH POND LAY OUT
1ST- ILOG (ANDY BOY ALONZO)
2ND- KABANKALAN (JOAO VITORIA ABO-ABO)
3RD- VALLADOLID (RYAN JAN TUMANGAN)
COMPOUNDING FEED RATION
1ST- VALLADOLID (MEL TRISHA TIU)
2ND- CAUAYAN (NORVILL VILLAFLOR)
3RD- HINIGARAN (JASON CABALO)
DETERMINING FEED CONVERSION
1ST- CAUAYAN (KIM CHARLES GASCON)
2ND- VALLADOLID (MEL TRISHA TIU)
3RD- SIPALAY (DANNY BOY TRIBUNALO)
FRUIT CARVING
1ST- SIPALAY (IVAN RHE MONTALVO)
2ND- ILOG (MAC DIETHER BAYONA)
3RD- SAN CARLOS (JAY-R BRILLANTES)
TOUR GUIDING
1ST- SIPALAY (ELEONARDO PERLAS)
2ND- SAN CARLOS (LORETHEL MAGHARI)
3RD- ILOG (DINA RECLA)
EXTEMPORANEOUS SPEAKING
1ST- MOISES PADILLA (JOHN BERLIN LEONOR)
2ND- ILOG (DINA RECLA)
3RD- VALLADOLID (JUBILEE OSORIO)
BATTLE OF THE BRAINS
1ST- KABANKALAN (JOHN ERNIE CAUBA & JONATHAN DEMAUSA)
2ND- ILOG (IRISH JOHN ELIJAN & RONALYN JAVELLANA)
3RD- CAUAYAN (KHIM DAHIL DAHIL & ANDRE YASA)
POSTER MAKING
1ST- MOISES (RAIZA MAE T. PEROLINO)
2ND-KABANKALAN (ED JAY O. VILLO)
3RD- HINOBAAN (NEIL VIRHIL GOMEZ MORALIZON)
VOCAL SOLO
1ST- CAUAYAN (CHRISTIAN TUPAS)
2ND- CANDONI (KHIESHA LIBO-ON)
3RD- KABANKALAN (ERICKA DAGUNAN)
VOCAL DUET
1ST- CAUAYAN (CHRISTIAN TUPAS & MILLENE CANETE)
2ND- SIPALAY (MELOU JANE ZAMORA & MARY CLOUDY RAIN)
3RD- SAN CARLOS (DANICA REPONTE & JAYSON REPONTE)
HIPHOP
1ST- CAUYAN (JEFFREY R. NAMAC, ERVE JEAN GETONZO, GENEROSO DEMAUSA)
2ND- KABAKALAN (KARL C. VALLAGOMESA, JAKE BRYN GUANZON, FRANKLIN JOHN BACONAJE)
3RD- VICTORIAS (DARREN JOHN MABAQUIAO, QUEENE ELISAN, JIMMY BALTAZAR, GRACEJEL BALINO)
Also, FLP invited Speakers who are experts in their own field to conduct trainings/workshops. Speaking first was Sir Niel L. Ningal, Doctor of Philosophy who was a Technical Consultant-Nutritional Health Asia Pacific with Elanco in 2021. He spoke about the African Swine Fever: A Country Journey to Recovery. He elaborated the effect of ASF to a country and its economy which is relevant to the current crisis.
Speaking next was Ma'am Darlene May Casiano, an organizer – coordinator of Panguma Farm Enterprise Development and Banana Chip Micro Biz Production in Negros Occidental. She inspired the listeners to start thinking big as she said that everyone can start their own businesses. She emphasized that "plan in action" is the key to achieve your goal in the future. She offered help if any of the students who are aspiring to be entrepreneurs. Also, she welcomes any possible partnership in the future.
Speaking on the 3rd day was Sir Joemel A. Labrador, an alumnus of CPSU and a former FLP president during SY 2019-2020. He talked about Hydroponically Grown Lettuce where he encourage each campuses to make their own hydroponic models that can be used in their own homes.
According to Miss Vanessa Sernicula, FLP Secretary, they also aim to develop the skills and potential of every Cenphilians through the convention competitions.
"All in all, the fruit of all the workshop can be used to harness the talents and educate the minds of every participant," expressed Miss Sernicula.
"We aimed to have the participants of the conference be able to interact with others despite the boundary created by the pandemic and seeing how responsive they were in asking questions and presenting their work, we were happy of the result," Miss Sernicula added as an evaluation to the virtual convention.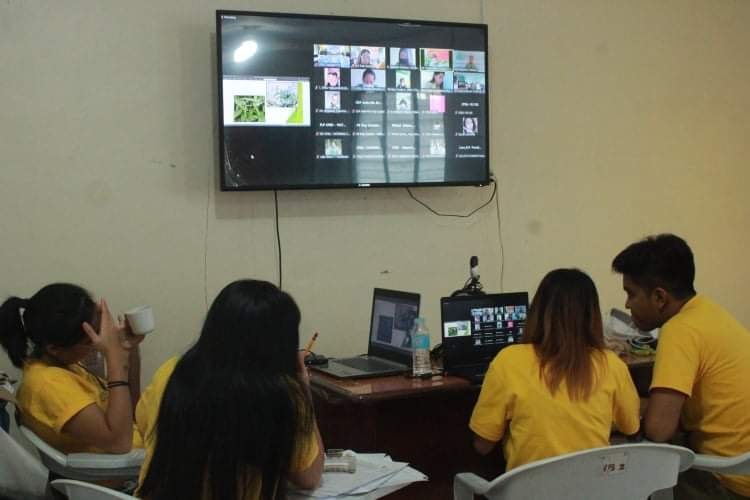 By: Alliah Fe Gako
Photo Credits to the FLP FEDERATION https://www.facebook.com/112277104582982/posts/155365126940846/?app=fbl