R and D conducts 2nd virtual research conference
Research, being one of the major thrusts of higher education institutions (HEIs) like CPSU, allows for discovery and generation of up-to-date, relevant and cutting-edge solutions, innovations and technology through accurate and expedient information and schemes to answer the challenges and current needs not just of the University, but the entire region.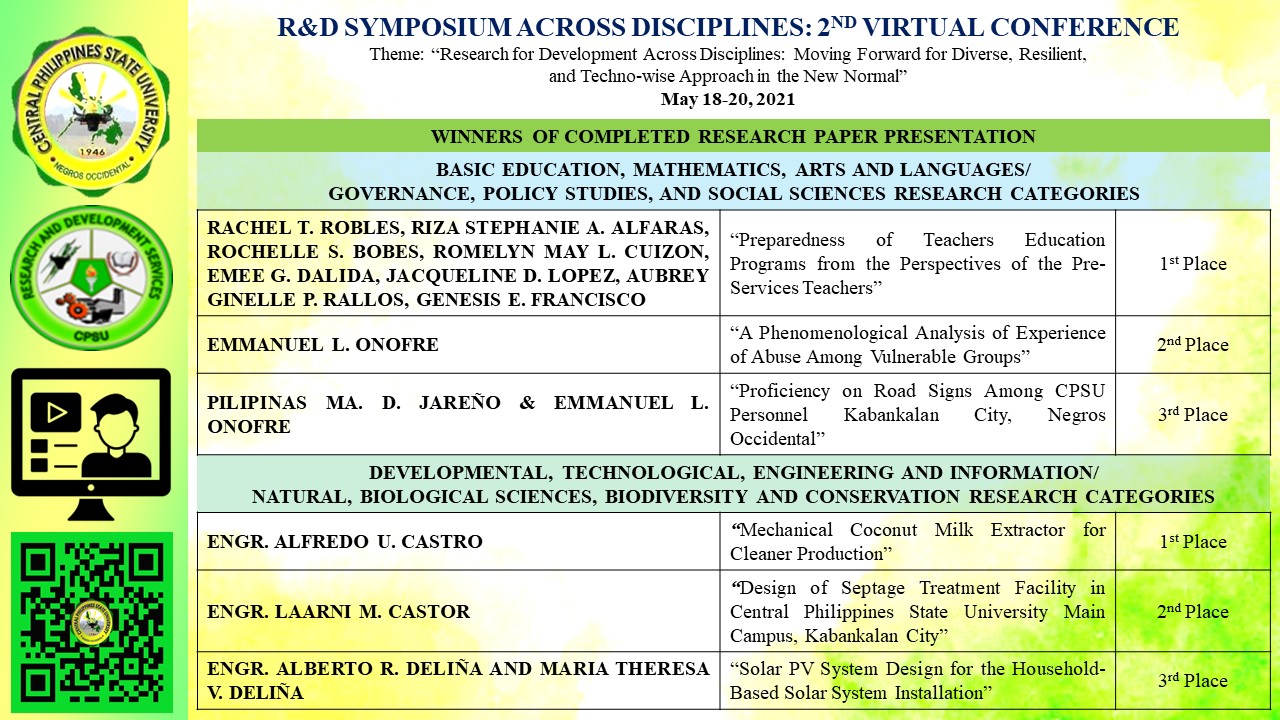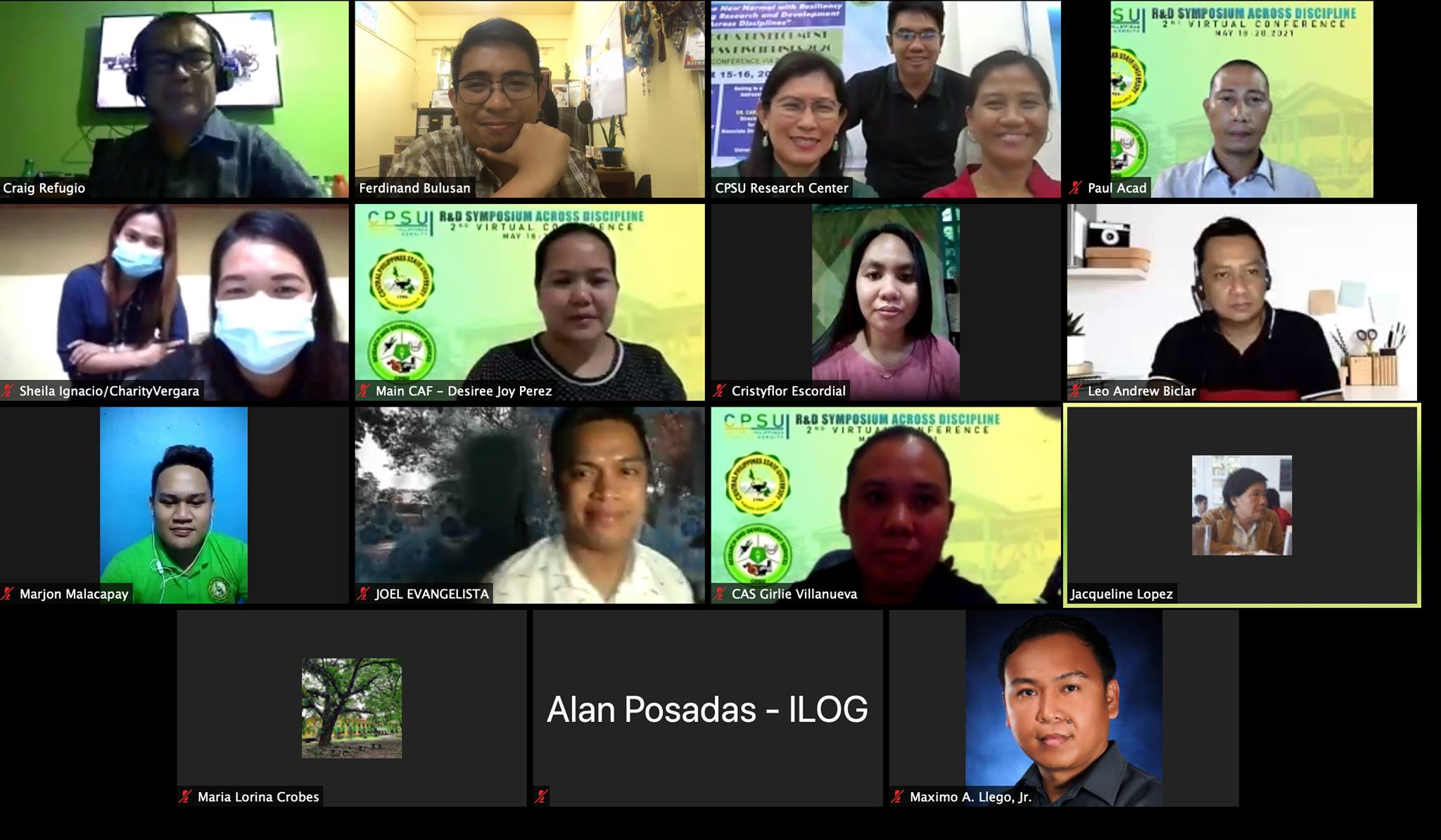 Seeing its vital social role in the community especially in this time of pandemic, the CPSU Research and Development (R&D) Center, headed by its Director Dr. Angelie Rose Lumba together with the Vice-President for Research and Extension Dr. Mae Flor Posadas, conducted the 2nd virtual research conference to allow access and sharing of relevant research findings in various disciplines with the theme, "Research and Development Symposium across Disciplines: Moving Forward for Diverse, Resilient and Techno-Wise Approach in the New Normal" last May 18-20, 2021 via Zoom teleconferencing.
With a total of 45 papers presented in various areas, seven (7) experts in the field of research coming from different agencies were tapped by the University to assist in scrutinizing each paper. The panel consisted of the following: Dr. Craig Refugio, Associate Professor V, assistant dean and research coordinator of the College of Teacher Education of Negros Oriental State University - Dumaguete; Dr. Ryan Sarimong, Associate Professor V, former dean of the College of Agriculture and former chair of Research and Publication of Capiz State University, Burias Campus; Dr. Niel Ningal, the ASEAN technical consultant and APAC Elanco - Nutritional Health; Alvin Palanog, the senior Science research specialist of the Phil. Rice Research Institute; Dr. Ferdinand Bulusan, Assistant Professor III, director for Research and Development, Extension and Training of Batanes State College; Dr. Efren Linan, the vice-president for Research, Development and Extension of Capiz State University; and Dr. Leo Andrew Biclar, the research director of Capiz State University.
During the prelude of the event, Dr. Pastor Jones Denusta, the director of the Western Visayas Agriculture and Resources Research and Development Consortium (WESVARRDEC) and a Biology professor of West Visayas State University, delivered his message of support in the said activity highlighting on the significance of research and development.
Indeed, activities like this allows the University to be armed and firmed up with knowledge in developing accurate actions, programs and services tailored to the relevant practical and immediate exigency of the community and the institution, especially in devising a system of goal-driven maneuvers responsive to the institution's current direction utilizing flexible/blended modality of learning in the New Normal.
Winners of the completed papers are as follows:
BASIC EDUCATION, MATHEMATICS, ARTS AND LANGUAGES/ GOVERNANCE, POLICY STUDIES AND SOCIAL SCIENCES RESEARCH CATEGORIES
RACHEL T. ROBLES, RIZA STEPHANIE A. ALFARAS, ROCHELLE S. BOBES, ROMELYN MAY L. CUIZON, EMEE G. DALIDA, JACQUELINE D. LOPEZ, AUBEREY GINELLE P. RALLOS, GENESIS E. FRANCISCO
"Preparedness of Teacher Education Programs form the Perspectives of the Pre-Services Teachers"
(1st Place)
EMMANUEL L. ONOFRE
"A Phenomenological Analysis of Experience of Abuse Among Vulnerable Groups"
(2nd Place)
PILIPINAS MA. D. JARENO & EMMANUEL L. ONOFRE
"Proficiency on Road Signs among CPSU Personnel Kabankalan City, Negros Occidental"
(3rd Place)
DEVELOPMENTAL, TECHNOLOGICAL, ENGINEERING AND INFORMATION/ NATURAL, BIOLOGICAL SCIENCES, BIODIVERSITY AND CONSERVATION RESEARCH CATEGORIES
ENGR. ALFREDO U. CASTRO
"Mechanical Coconut Milk Extractor for Cleaner Production"
(1st Place)
ENGR. LAARNI M. CASTOR
"Design of Septage Treatment Facility in Central Philippines State University Main Campus, Kabankalan City"
(2nd Place)
ENGR. ALBERTO R. DELINA AND MARIA THERESA V. DELINA
"Solar PV System Design for the Household-Based Solar System Installation"
(3rd Place)

By: J.A. Emoy
Photo credits: E. Gemotra & F. Carpio