CPSU Guidance and Counseling unit and iHelp, Inc. conduct customer service training to Cenphilians
With the aim of inculcating to the students essential knowledge and importance in developing an exceptional customer service along with vital strategies on customer care that are necessary for the success of their future career after graduation, the University Guidance and Counseling Unit together with the Office of Student Services and Affairs (OSSA) in partnership with iHelp Coaching and Business Solutions, Inc. conducted a virtual Customer Service Training last March 13, 2021.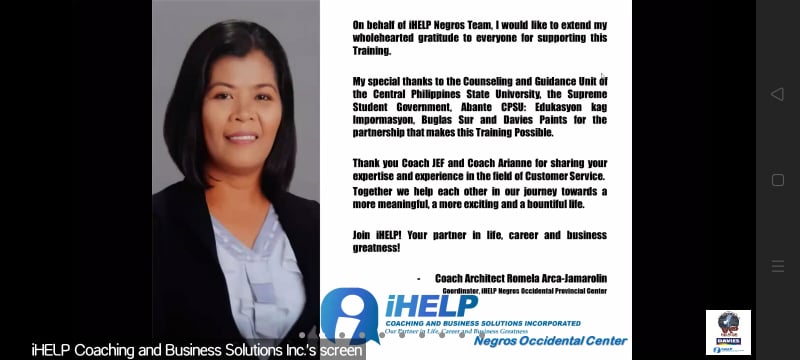 Approximately 130 participants joined the training which consisted of the graduating students coming from the main and satellite campuses of CPSU together with the non-Cenphilians who also registered for the said training.
OSSA Dean Dr. Pilipinas Ma. D. Jareño welcomed the participants and extended her thanks for their willingness to attend and gain new knowledge on the said topic.
John Ernest Fernandez D. Hum also known as 'Coach Jef,' a book author and an internationally certified life coach discussed the topic about customers and customer service.
"Are Customers Always Right?" was Coach Jef's question as he started his talk. He explained the important role of customers in improving one's business.
He also quoted a saying from Mahatma Gandhi saying, "Customers are the most important visitors in our premises, they are not dependent on us. We are dependent on them. They are not the interruption in our work. They are the purpose of it. They are not outsiders in our business. They are part of it. We are not doing them a favour by serving them. They are doing us a favour by giving us an opportunity to do so."
Ar Romela Arca-Jamarolin, Coordinator of iHelp Negros Occidental Negros extended her warmest thanks to all the individuals who supported the training.
Significantly the program has indeed provided the participants with adequate knowledge on customer and customer services which would prove essential in their future work and business ventures after graduation.
The said virtual event was hosted and sponsored by UAP Buglas Sur, iHelp Negros, Abante CPSU:Edukasyon kag Impormasyon and Davies Paint.
By: S. Ermeo, BSA III