OSSA virtual leadership summit: Gearing student leaders in the new normal
Politics and governance, gender sensitivity, social responsiveness, and well-being and spirituality are essential areas that student leaders need to cultivate among themselves to fully empower them as they deliver services and carry out their functions to their respective clients.
These areas were the highlighted agenda during the two-day 2021 cpsu-wide virtual leadership summit held via zoom conferencing on February 19 and 20 with the theme, "Cenphilian Student-leaders 2021: Strengthening Vision, Grit and Character."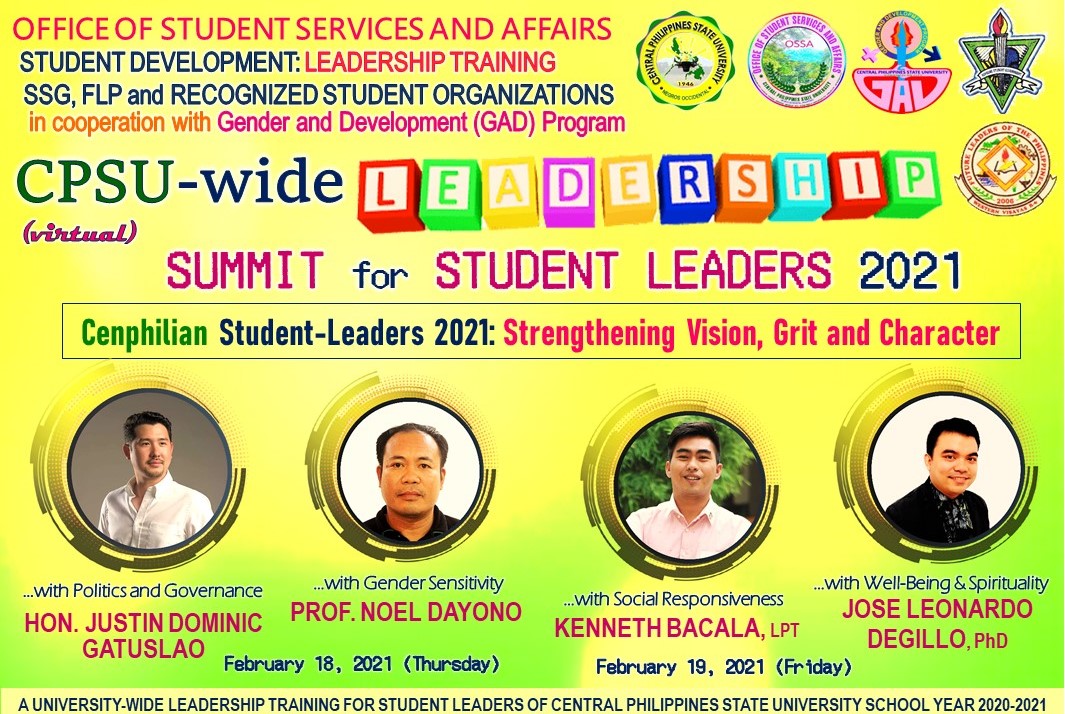 The said event brought together over 200 delegates from all the extension campuses of the University. Participants were Supreme Student Government (SSG), Future Leaders of the Philippines (FLP), and officers and advisers of recognized organizations within the CPSU system.
The activity made possible for the delegates to draw inspiration from the speakers on the aforementioned topics, as a means of equipping them in performing their roles and functions in the midst of the pandemic.
Speaking on the first day was Hon. Justin Dominic Gatuslao, Himamaylan City Vice-Mayor and WVSU Instructor of Philippine History, Politics and Governance who discussed on Politics and Governance. He emphasized the relevance of civic involvement as manifested primarily in casting votes during elections.
"Transparency is proportional to trust. A less transparent service builds distrust and will discourage the people to participate in the activities," Hon. Gatuslao said.
"As leaders, compromise may work better than eliminating the odds as a way of dealing with differences. We may compromise the process but not the outcome and belief system," Hon. Gatuslao said when asked about possible conflict of ideas that may arise in an organization.
Speaking next was Sir Noel Dayono, CPSU Gender and Development (GAD) Focal Person, who shared knowledge about gender sensitivity along with the legal basis on gender-related matters.
Among the concerns raised during the open forum were the seem-like bias protection given to women. In response, OSSA Dean Dr. Pilipinas Ma. Jareño explained the legal procedure to be conducted, such as contesting evidences from both sides of the party before considering whether which party inflicted/suffered an abuse.
On the second day, Sir Kenneth Bacala, a teacher of Himamaylan NHS, also a youth leader and a community volunteer, shared his experiences on Social Responsiveness.
"Youth is not forever. We have time, energy and resources to create initiatives. Time will come that we will be leaving our youth life, but with legacy," Sir Bacala emphasized.
Among his many initiatives, one significant group he had organized was the Hope Builders Organization (HBO) to encourage Negrense youth's participation in addressing community concerns. HBO's ongoing activities include but are not limited to Proseed, Lead for Hope Project, YouTeach, Pagbasa: May Pag-asa sa Pagbasa, PagkaOwn and HomeAid.
"To the youth who wants to serve their community, it takes a team of youth with the same vision, interest and passion to build a community of legacy and hope builders," Sir Bacala added.
Speaking last was Sir Jose Leonardo Degillo, KCC Guidance Counselor and Chair of the Department of Arts and Sciences. He discussed on Well-being and Spirituality to all the participants.
"Knowing is the beginning of loving. Loving is the beginning of serving. There is always room for progress," Sir Degillo said referring to individual continuum of progress.
The said event was organized by the Office of Student Services and Affairs (OSSA) Dean Pilipinas Ma. Jereño in collaboration with the Office of Gender and Development (GAD) Director Noel Dayono, and facilitated by the SSG.
By Alliah Fe Gako, BSABE III, J.A. Emoy
Photo Credits: OSSA