College of Engineering commences construction of 48M building
Infrastructures, laboratories and state-of-the-art facilities and equipment are some of the vital elements that facilitate conducive and effective learning environments in higher education institutions (HEIs) like Central Philippines State Universities. Mindful of this fact, the construction of additional learning establishments became one of the University's ultimate goals.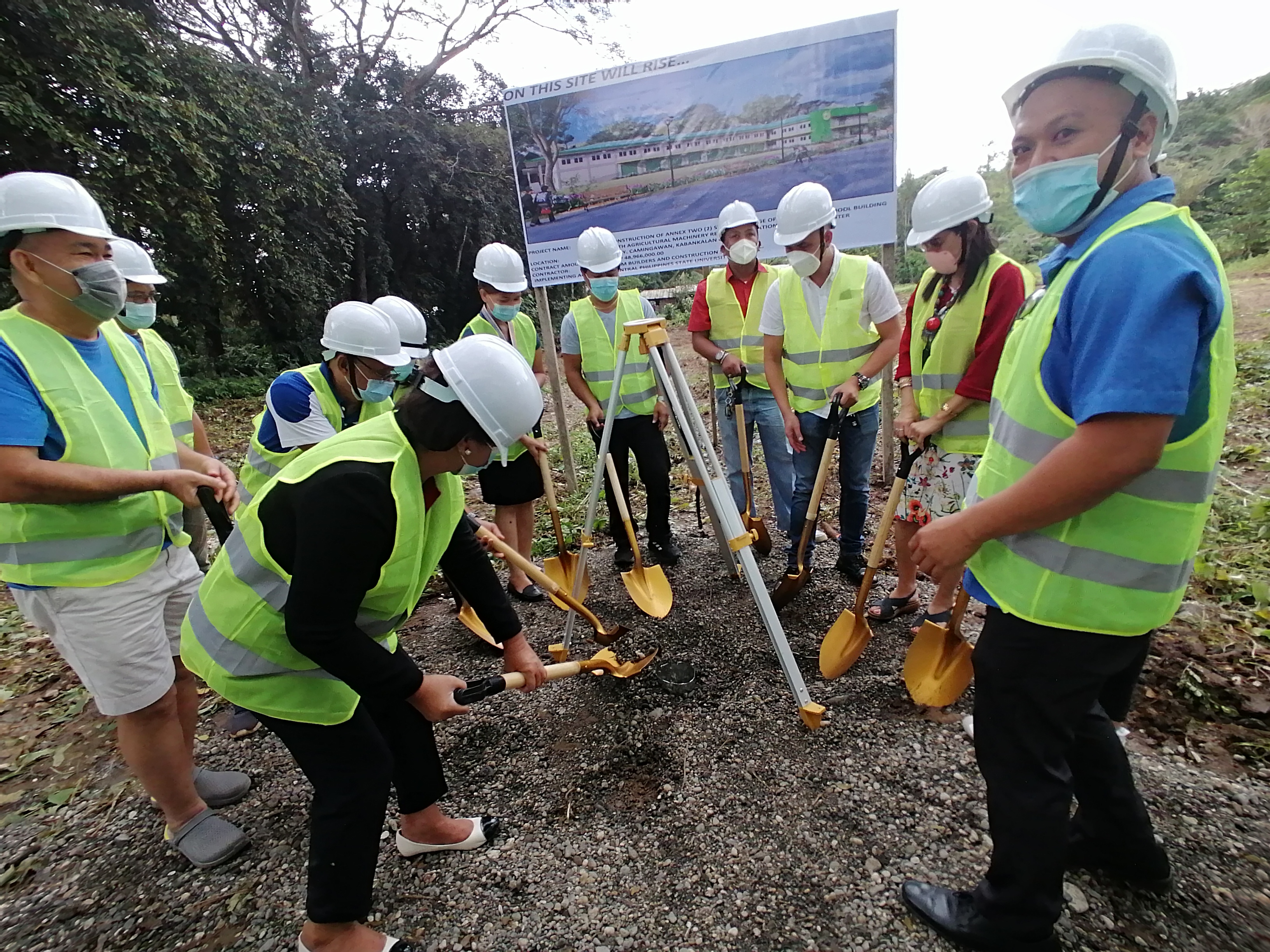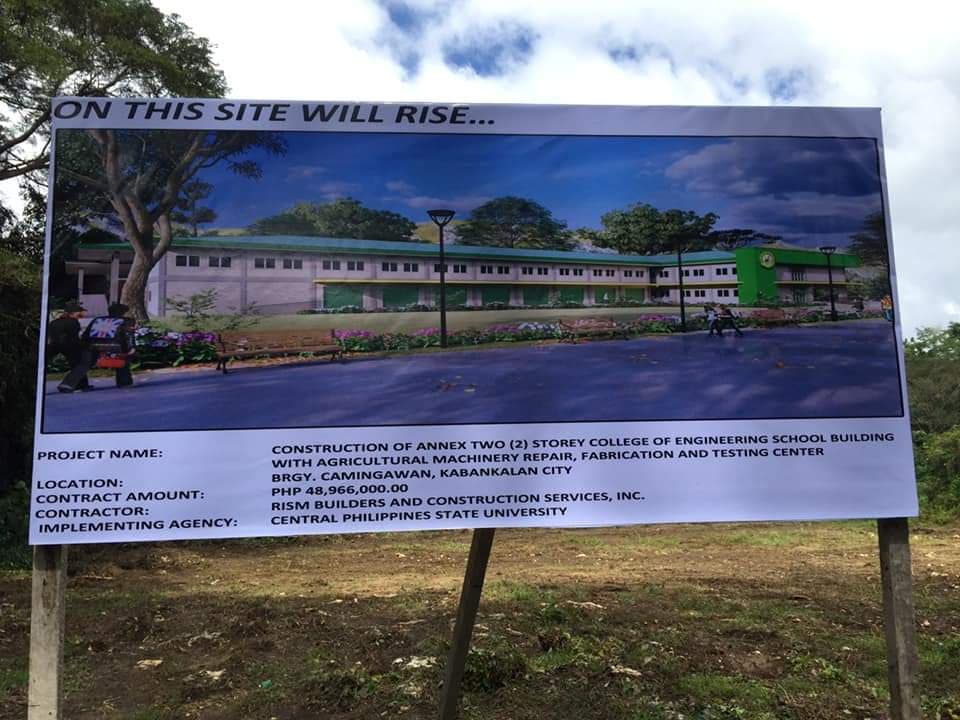 This is evident in the recently conducted groundbreaking ceremony of the two-storey College of Engineering (COE) school building worth Php48,966,000.00. The said edifice is designed to contain 27 classrooms in the second floor, with shops and laboratories for agricultural machinery repair, fabrication and testing center in the ground floor.
Gracing the ceremonial groundbreaking event were its DepEd partners headed by Dr. Portia Mallorca, CESO V, the Schools Division Superintendent of DepEd Kabankalan, together with her were Asst. Superintendent Nelly E. Garote, SGOD Chief Dr. Cecilia Abello, SGOD EPS Julieta Gempison, SEPS Sheina Saquian, and Dr. Saturnino Pabalinas.
VP for Admin and Finance Dr. Marc Alexei Caesar Badajos stated that they [DepEd] are important counterparts in this event since their students are the future clients in the University.
"Having DepEd with us today to show their support further strengthens our partnership with them. This will also serve as program promotion for them to be aware that CPSU has these existing facilities and infrastructures," Engr. Badajos stated.
Further, Dr. Fernando Abello, VP for Academic Affairs, said that this is another milestone for the College of Engineering. This will answer the community's needs since more classrooms means more students can be catered by the college.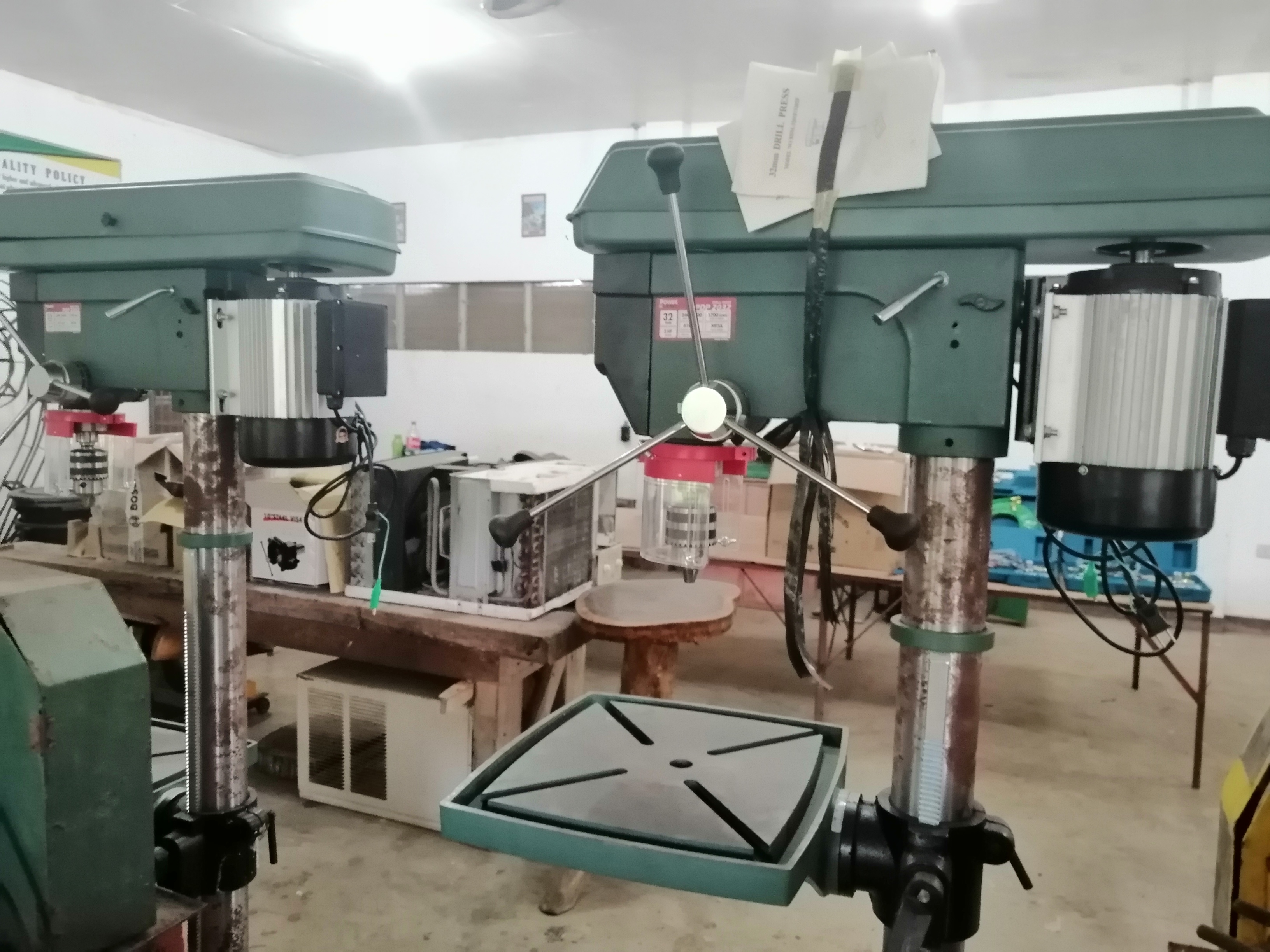 Likewise, Engr. Rene Dagunan, COE dean, expressed great optimism in the realization of the said project. Given the current programs offered by the College of Engineering such as the BS in Electrical Engineering (BSEE), BS in Mechanical Engineering (BSME) and the BS in Agricultural and Biosystem Engineering (BSABE), this is a great welcome development for the college.
"This new building will bring more opportunities for our students to learn highly technical, advanced and practical applications related to their field of discipline. Given its number of classrooms, the college could now accommodate about 600 students," Engr. Dagunan said.
In response, Dr. Mallorca expressed her commitment to continue their support to the developments, initiatives and activities of the University.
"This development is a blessing from God, including all the innovations of the University. I am proud of CPSU. Rest assured that we will spread the word on this new milestone of the University. Our students should move forward to reach their dreams. We are part of building their future because their future is the future of Kabankalan City," Dr. Mallorca further stated.
Following their messages were the Site Blessing led by Rev. Father Roger Aliligay, and the Groundbreaking proper which was participated by the DepEd counterparts and CPSU officials.
The blessing of the Php30 million worth of College of Engineering laboratory equipment followed right after the event.
Also present were the representatives from the RISM Builders and Construction Services, Inc. Kim Gabayeron and Lovely Chenny Villanueva, VP for Research and Extension Dr. Mae Flor Posadas, Dean of the College of Arts and Sciences Dr. Maria Lorina B. Crobes, Dean of the Office of Student Services and Affairs Dr. Pilipinas Ma. Jareño, Director for Planning Engr. Ma. Cristina Canson, Director for Extension Dr. Jimmy Degillo, Director for Instructional Media Production and Development Dr. Josephine Rubia-Emoy, Director for Intellectual Property Janet Serisola, Director for Board Review Dr. Merfe Cayot, Budget Officer Vicente Trio, Jr. Supply Officer, Ma. Socorro Llamas, University Accountant Elfred Sumongsong, former VP for Research and Extension Dr. Joel Perez, among other CPSU personnel.
With technology being a key to student learning in this highly advanced age of society, these machines and instruments will surely pave the way for improved student outcomes toward the realization of the University's mission to produce competent graduates who can generate and extend leading technologies beneficial to the community.
By: J.A. Emoy